August 22nd - THE FRITZ w/Hot Yoga
August 22, 2019 06:00 PM until August 22, 2019 09:00 PM
FR8yard Biergarten & Social Hub is pleased to announce Asheville, NC, based soul-driven, dance-rock band THE FRITZ, on Thursday, August 22nd.
w/Special Guest HOT YOGA!
Doors open @ 6pm. Show @ 7pm.
$8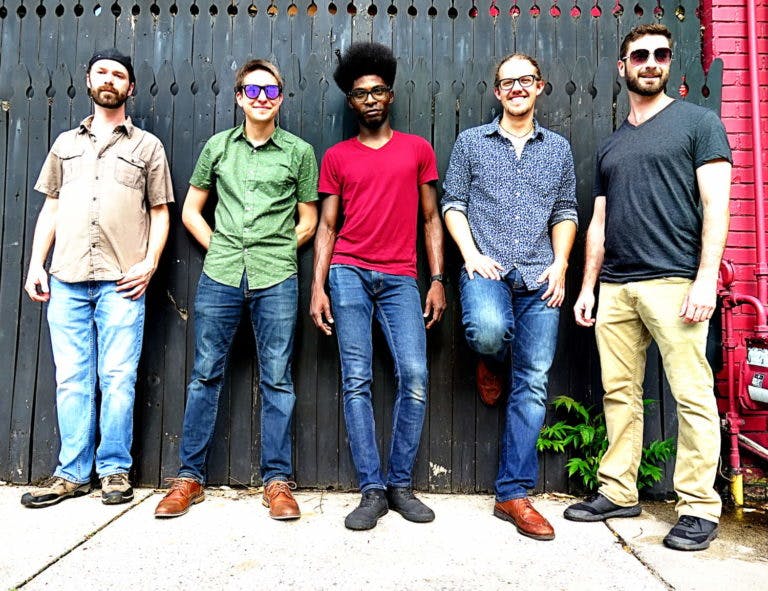 The Fritz is a soul-driven dance rock band hailing from Asheville, NC.
The group's aggressive approach to funk, soul, and rock creates a sound that is uniquely their own. Their high-energy, danceable songs provide a platform for each member to shine. With powerful vocals, climactic solos, and tight grooves, The Fritz has built a devoted following and is captivating audiences everywhere.
Originally formed in the rehearsal spaces of University of North Florida's School of Music, The Fritz discovered an immediate chemistry. Drawing on influences such as Prince, Talking Heads and Jimi Hendrix, the quintet integrated their diverse musical tastes and began writing music together.
With their college days behind them, the Fritz soon set their eyes on the mountains of Western North Carolina, eventually settling in Asheville in July 2011. After the release of their 2012 debut album, Bootstrap, the band launched into a near-constant touring schedule. With appearances at festivals such as Hulaween, Wakarusa, and Catskill Chill, the band quickly gained a reputation as a live act not to be missed.
The band's 2017 release, Natural Mind, captures a sound that has been years in the making.
"We intentionally waited to go back into the studio so that we could really work on the music and figure out what makes this band special," vocalist and keyboardist Jamar Woods said.
For the new album, The Fritz headed north to More Sound Studios in Syracuse, NY and enlisted the help of producer Dave Brandwein (Turkuaz, Galaxy Smith Studios) and engineers Jason "Jocko" Randall and Jose Varona to assist with the recording process.
"We wanted to work with a producer whose work we respected and who we trusted to add a different perspective," percussionist Mikey "Spice" Evans said. "Dave played an invaluable role in producing our album."
While most of the songs were written in the months leading up to recording, the studio environment allowed for some last minute additions and musical breakthroughs.
"We really wanted to arrange these songs specifically for the studio, which was both challenging and fun for us" guitarist Jamie Hendrickson said. "Now we're very excited to get on the road and have these songs take on a life of their own."
The band is now taking the album and their unforgettable live performances around the country with the Natural Mind tour.
Check out www.thefritzmusic.com for local tour dates near you.
MORE ON HOT YOGA!
HOT YOGA! plays cover songs to make you sweat.

Hot Yoga will get all the impurities of the daily grind out of your body by making you dance to the most mind-melting covers in the universe. After the first hit song you'll be covered in dance sweat and begging for mercy...


Then you'll beg for more Hot Yoga.


For any event where you need a DJ but you really want live music, remember what you really, really want is Hot Yoga. We make DJ's sleep in fear. We also make dreams come true, like the dreams your feet have of dancing for hours, or the dream your brain stem has of hearing some of the best music ever made so that those songs can get stuck in your head instead of that insurance commercial jingle that's been making your ears bleed all week long but you still can't stop humming it. We are the cure your dancing feet have been fidgeting for.



MORE ON FR8yard
www.fr8yard.com
Located at 125 E Main St. in Spartanburg, SC, FR8yard is a dog & family-friendly, open-air biergarten & restaurant. With its chef-inspired food menu and an ever-changing selection of beer and other refreshing beverages, FR8yard is arguably the only concept of its kind in the Southeast. Complete with a 20 ft jumbotron for major sporting events, live streaming, and the occasional family movie night, FR8yard is a must-see. In addition, the downtown Spartanburg venue showcases local and regional live music acts on its stage.